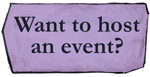 If you would like to request an open or private event, or are interested in hosting a recurring series, please email us at twodollarradioHQ (at) gmail (dot) com. For events that would require us to be closed to the public, please list as many details as possible so we can assist you quickly.

Here are upcoming events! Please contact us if you have any questions.
(If you can't see the events below: We're using a Google Calendar which works with current and major previous versions of these browsers: Google, Chrome, Internet Explorer, Microsoft Edge, Firefox, Safari. Perhaps try a different browser, or update your browser version.)
For tips on where to park, our hours of operation, and more, visit our INFO page.