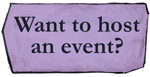 ---
If you would like to host a bookclub, please email us at twodollarradioHQ(at)gmail(dotcom)!
---
In this monthly book club we'll be reading works of speculative fiction by women and nonbinary writers, discussing the ways these works make us think, feel, and reflect on reality.
Next meeting: Aug. 28, 2018, 7pm.
Featuring The Only Ones.
---
Come have a fun, relaxing night with us, chatting up books, drinking booze or coffee, and if you need some delicious dinner or just a sweet or savory snack, you can peruse the food menu here (all vegan)!
Next meeting: August 14, 2018, 7pm.
Featuring The First Collection of Criticism by a Living Female Rock Critic.

---
Rotating between fiction and nonfiction, the goal is to enjoy and grow our knowledge of the writing accomplished by black, south Asian, native, latinx, and many other authors of color. Come listen, discuss, and learn how the words of those usually underrepresented in literature can fit within the world we live in today.
Next meeting: September 12, 2018, 7pm.
Featuring The Underground Railroad.
---