Rotating between fiction and nonfiction, the goal is to enjoy and grow our knowledge of the writing accomplished by black, south Asian, native, latinx, and many other authors of color. Come listen, discuss, and learn how the words of those usually underrepresented in literature can fit within the world we live in today.
Hosted by Devlin Prince: former bookseller, currently working in the public health field. He is an avid reader and especially likes reading outdoors. Enjoys not only talking about books, but also about movies, food, and traveling.
---
---
September 12, 2018, 7pm

: This month's pick is
The Underground Railroad by Colson Whitehead.

We have the book for purchase online here.
"[An] ingenious novel. . . . A successful amalgam: a realistically imagined slave narrative and a crafty allegory; a tense adventure tale and a meditation on America's defining values."
—Minneapolis Star Tribune
"I haven't been as simultaneously moved and entertained by a book for many years. This is a luminous, furious, wildly inventive tale that not only shines a bright light on one of the darkest periods of history, but also opens up thrilling new vistas for the form of the novel itself."
—Alex Preston, The Guardian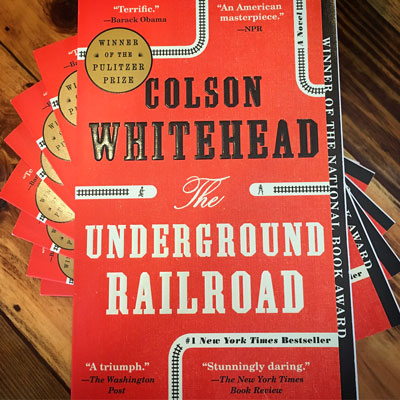 ---
PAST PICKS: