Due to COVID-19 the menu items here are currently out of date.

Please visit the new MENU page here: twodollarradiohq.com/menu

We proudly serve One Line Coffee: "Better coffee means a lot of different things to different people. To us it means flavor and quality, sustainability, and traceability. It means doing everything we can to ensure farmers and workers are treated well, and earn a livable wage. It means telling the stories of our coffees, connecting you to our farmers. And it means matching the passion of our farmers with our own passion for roasting."
And we source our tea from Numi, a certified organic and Fair Trade company.
*All of our coffees and teas are vegan. We offer coconut, almond, oat, and soy milks.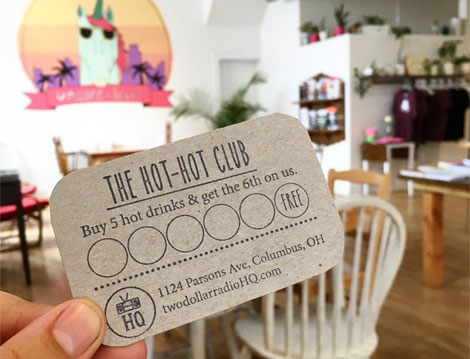 COFFEE MENU
Drip: $2 — C

olombia El Progreso (House)

(medium roast)
Espresso: $2.5 — Method Espresso Blend
Latte: $4 — Original, Lavender, Hazelnut, Toasted Marshmallow — espresso with your choice of milk (steamed or iced)
Chai Latte: $3.5 — chai tea with choice of milk (steamed or iced)
Dirty Chai Latte: $4 — espresso & chai tea with choice of milk (steamed or iced)
Americano: $2.5 — espresso with water
Cold Brew: $3 — Colombia El Progreso (medium roast) 24-hour, house-made
TEA MENU
Lemon chamomile: $2 — (herbal)
Jasmine green: $2 — (green)
Earl grey: $2 — (black)
London Fog: $3 — early grey tea with choice of steamed milk

VISIT THESE ADDITIONAL PAGES FOR MORE: